Influenza Vaccine Clinics at ISD Schools
Posted September 5, 2017
The City of Independence Health Department is working with VaxCare and your child's school to give the seasonal influenza vaccine to children at school.  This vaccine will protect against all four influenza strains that are expected to circulate this year. We will hold vaccination clinics beginning this fall; specific dates for your child's school can be found at the bottom of this page.
The most current Vaccine Information Statement on the injectable flu vaccine is attached. Due to changes in CDC recommendations, the FluMist (nasal spray) is not available this year; therefore, we are only offering injectable vaccine (shot).
Depending on whether your child has received the influenza vaccine in the past, some children younger than nine years of age may need two doses of vaccine spaced about four weeks apart. Because we will only be in each school one time, children may visit their primary health care provider for the second dose, if needed.
Also below is a vaccine consent form for you to complete for your child to receive the flu vaccine at his/her school.  If you would like for your child to receive the flu vaccine at school, please fill out the front and back of the accompanying form, sign it, and return it to your school nurse by the date listed in the chart below. Information collected will be provided to the Independence Health Department which in turn will be shared with Vaxcare for any billing needed. The health department will comply with all confidentiality requirements applicable under state and federal law, including, the Health Insurance Portability and Accountability Act (attached) and the Family Educational Rights and Privacy Act (FERPA) (20 U.S.C. § 1232g; 34 CFR Part 99). By signing and returning the attached consent form, you are specifically consenting to the release of the information you provide about your student to the Independence Health Department and, if applicable, to Vaxcare. The attached form will be forwarded directly to Independence Health Department and will not be maintained by Independence School District.
To complete the Payment Information section of the consent form, here's what you need to do:
If your child has Medicaid, please complete the form and provide their Medicaid number and plan name for billing purposes in the area on the form indicating Medicaid.
If your child is not Medicaid eligible but does have eligible insurance coverage, please select the "Insurance Pay" box. Please select the eligible insurance company, listed on the form. We are only able to bill the insurance plans that are listed on this form. Please provide all of the requested insurance information in this section including member ID number, group ID number, and information about the individual who is the insurance carrier or subscriber. Please review your insurance plan to be sure that you have coverage for vaccines.
If your child is not eligible for Medicaid or private insurance, please indicate on the form in the "NO INSURANCE" box.
Please visit the CDC's influenza web site at http://www.cdc.gov/flu/ and also http://www.cdc.gov/flu/parents for more information especially for parents.  Your child's health care provider also can answer your questions about the influenza virus.
If you have any questions about the vaccine or the vaccination clinics, please call the Independence Health Department at 816-325-7185 from 8:00 a.m. to 5:00 p.m.
Schools

 

Consent form due back to school
Clinic date*
Benton, Bryant
September 18th
October 3rd
Sugar Creek, Procter
September 19th
October 4th
Glendale, Blackburn
September 20th
October 5th
Santa Fe Trail, Spring Branch
September 21st
October 6th
Ott, Luff
September 25th
October 10th
Randall, William Southern
September 26th
October 11th
Fairmount, Mallinson
September 27th
October 12th
Three Trails, Korte
September 28th
October 13th
Mill Creek, Little Blue
October 2nd
October 17th
Bridger
October 3rd
October 18th
Indep Academy, Pioneer Ridge
October 4th
October 19th
Bingham, Sycamore Hills
October 5th
October 20th
William Chrisman, Nowlin
October 6th
October 23rd
Truman, Van Horn
October 9th
October 24th
Hanthorn, Sunshine
October 10th
October 25th
*Dates are subject to change based on vaccine availability.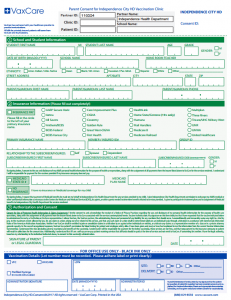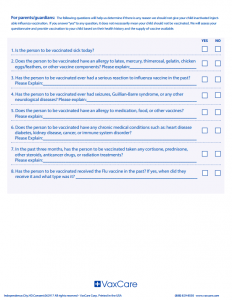 Vaccine Information Statement (English)
Vaccine Information Statement (Spanish)