Dolly Parton's Imagination Library in the ISD
Posted October 1, 2022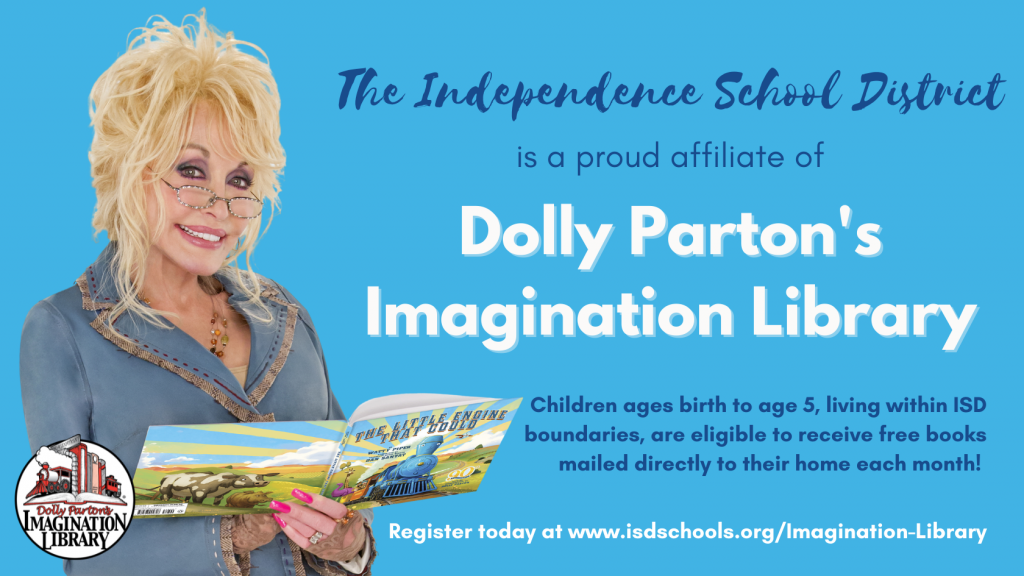 The Independence School District is proud to be an affiliate of Dolly Parton's Imagination Library! Children living within district boundaries are eligible to receive free books mailed directly to their homes each month from the month they are born until age five. Since its inception, Dolly Parton's Imagination Library has gifted more than 170,000,000 books, inspiring a love for reading and building strong academic foundations with children around the world.
*Books will begin arriving at your home eight to 10 weeks after your registration is confirmed.*
Eligibility
Children under the age of five, living within Independence School District boundaries are eligible to register. Children do not need to be enrolled in ISD Early Education programs to register for Imagination Library. To register, you will need to provide a guardian name, child's name, mailing address, email address and phone number. The Independence School District includes all households located in zip codes 64050, 64052, 64053, 64054 and 64055. Families residing within these zip codes may register online.
Families residing in zip codes 64130, 64133, 64138, 64056 and 64057 within ISD boundaries must register by completing and returning this registration form to ISD Central office. Registration forms may be dropped off or mailed to:
Independence School District
Attn: Public Relations
201 N. Forest Avenue
Independence, MO 64050
If you are unsure if your home address falls within ISD boundaries, you may search your address in the ISD boundary map found here. If multiple children live within the same eligible household, a separate registration is required for each child.
Eight to ten weeks after your registration is received, books will begin arriving at your home and will continue until your child turns five or you move out of ISD boundaries. If your child's address changes within ISD boundaries, you must email imaginationlibrary@isdschools.org with your updated address in order to continue receiving books.
Resources
Register Online
Registration Form PDF (English)
Registration Form PDF (Spanish)
ISD Boundary Map
Imagination Library Program Overview
Books & Selection Process