2023 Levy Ballot Measure
The Independence School District has added a Levy Ballot Measure on the August 8, 2023 Election ballot.
This would increase operational funds, which will:
Improve staff salaries & benefits
Create additional staff positions
Help fill hard-to-staff positions
How does it work?
The Independence School District is funded through a combination of federal, state, and local funding (i.e. property taxes). Local property taxes are utilized by the school district through an Overall Tax Levy Fund that is made up of two parts, the Debt Service Tax Levy and the Operating Tax Levy.
The August 8, 2023 Levy Ballot Measure is asking voters if the ISD can raise the Operational Levy 20 cents, which will increase money available for salaries & benefits. The Board of Education intends on lowering the Debt Service Levy 30 cents. The Overall Tax Levy of the ISD will decrease 10 cents if the operational levy ballot measure passes and the BOE makes the decrease.
The current Overall Tax Levy is $5.4371; if the measure is approved, the new levy would be $5.3371.
Voting Information
The last day to register for the August 8th election is July 12, 2023.
Jackson County residents may register at any Mid-Continent Public Library, any Missouri license bureau, all area City Hall offices, at the Jackson County Election Board Office on the Independence Courthouse Square, and at the Jackson County Election Office's Independence Center website.
Or, register at the Secretary of State's website: sos.mo.gov/elections/goVoteMissouri/register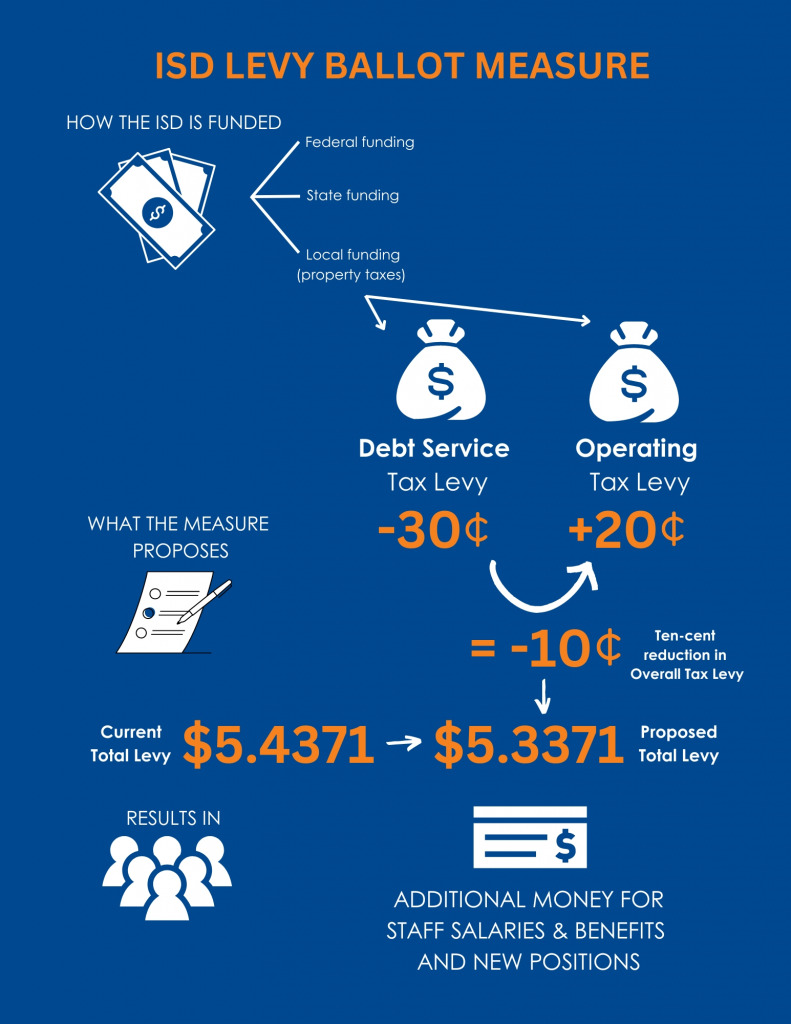 Frequently Asked Questions
What is a levy ballot measure?

A ballot measure is an issue or question that appears during an election for voters of a jurisdiction to decide. The ISD Board of Education approved the ISD adding this proposed levy change to the ballot for a special election on August 8, 2023.
Why is the ISD putting a levy measure on the ballot?

To increase staff salaries & benefits, create additional staff positions, and help recruit employees for hard-to-fill positions.
Independence School District, 201 N Forest Ave, Independence, MO 64050