MCC – ISD Early College Program
Posted February 9, 2023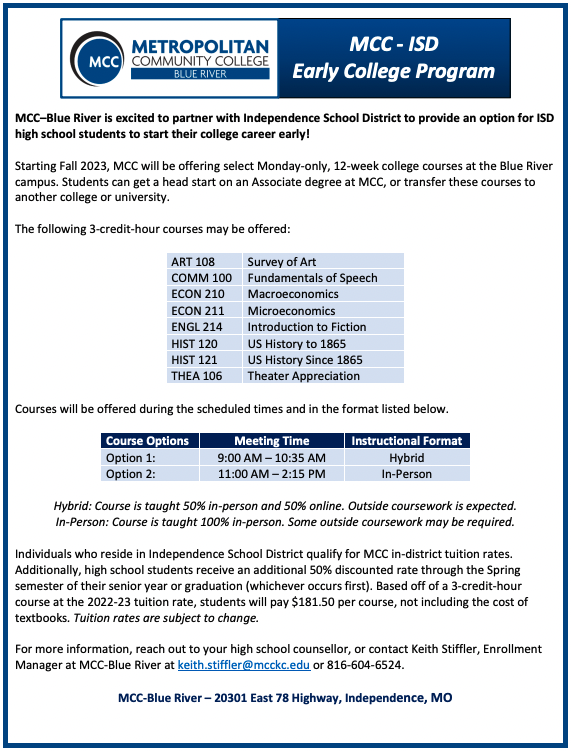 ISD high school students can earn 24 college credit hours, and ISD teachers can earn extra money thanks to the district's move to a four-day school week
We are proud to announce a partnership with Metropolitan Community College that will allow our high school students to earn 24 college credit hours by attending classes on Mondays (which they will now have off beginning in August 2023). ISD teachers can also earn extra money to teach the courses. The creation of these new community partnerships which benefit the students, families, and staff of the Independence School District, were made possible by the move to a four-day school week.
WHAT: The ISD is partnering with MCC (Metropolitan Community College) to offer Monday-only, 12-week, in-person and hybrid college courses at the Blue River campus. ISD teachers can also earn $3,000+ per class if they have the certification and are hired as MCC Adjunct Instructors. For information on available postings, visit https://jobs.mcckc.edu/.
WHO: ISD students can get a head start on an Associate's degree at MCC or transfer the credits to another college or university. Students may take up to two classes each semester.
WHEN: Courses will take place on Mondays, beginning August 2023. The Hybrid course will be taught 50% in person and 50% online. The In-Person course will be taught 100% in person. The times of the courses are TBD.
WHERE: Courses will meet in-person at MCC-Blue River (20301 East 78 Highway, Independence, MO.)